Tuesday, April 12, 2005
a lil
blurb about me
in
Craftivism.com
Posted by

Patrice Lehocky
at 11:02 AM
0 comments


Thursday, April 07, 2005
A photographer from Simply Living mag took some pics of my jewelry when they were at Hoopla Traders on Capital Hill. So there maybe be a TakeWrning pic in the October edition. (yeah, 8 month lag time, hehe) And Bobbie was shameless promoting my goods, and now I may be involved in a trunk show in Sewickley on May 6th. And I'm able to take off work to go to China. Whoo-hoo.
But I'm not getting too excited, it may all fall thru like the Sax thing.
Posted by

Patrice Lehocky
at 2:20 PM
0 comments


My composting worms are dead. I killed a virtually self-sustaining community. I'm a tad worried about Tele' and myself right now...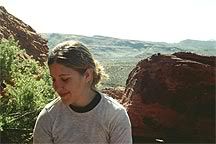 Red Rocks pics next week
Posted by

Patrice Lehocky
at 10:31 AM
0 comments