While waiting for JG at
Blue Nile
, I sucked down few cheap-rum & diets, then proceeded to get destroyed at Surly Girl. Ridiculous babbling and fleshhunt prevailed over the Dead Sea/Teeth of the Hydra show, but we still made it to Justin's house warming party, (which was a really sweet place), making my graceful entrance by knocking over his potted plant. yiyi.
It was amazing out Saturday, but I pretty much layed around, read, watched movies and took JG to the airport. Luckily I got out today, and I think that there was a public order to wear spandex while bikeriding in Dublin today. The question is "did I or did I not comply???"
Hard to be envious of JG in SF when it's amazing out here.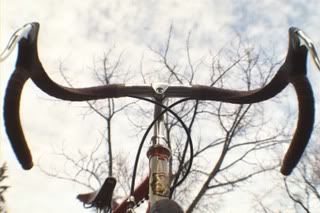 I got a slew of new books:
Good News for a Change
(actually I had this before, and left it on a plane, but it was worth buying again-
David Suzuki
is pretty amazing, although this book isn't about his achievements),
Red Rock Climbing Guide
,
Las Vegas Limestone
,
Hiking Vegas
,
Our Bodies, Ourselves
,
Taking Charge of Your Fertility
(on BLC's recommendation- beats the zine that I usually refer to- and I got a speculum at the
Roadblock Tour
, hoping to become responsible & not rely on
BC
- but I'll have this soapbox for another post..., and
Equilibrium Staged Separations
- I blatently failed this course in college (although I blame it on the itterations in MathCAD that I could never get to work properly), and pretty much burned the book when I squeaked by the 2nd time, but now have been realizing that I need to be more knowledgable in that subject than I am.