So I haven't quite mastered the new camera yet, but here are a few pics from the 'bar crawl.' The plan was a beer at every bar, ending at Patrick Js. It began with shots and beers at Jenn's house then the Green Demon shot (which tasted exactly like a peppermint patty- it was awesome) and a Rogue Hazelnut Ale at
SG's
, miller lites at
Skullys
then pitchers of green Miller lite at Lucky's, Stubs', Larry's, 4 Kegs, and I threw in the towel at Out or Inn.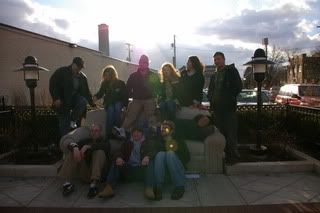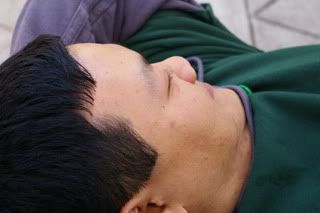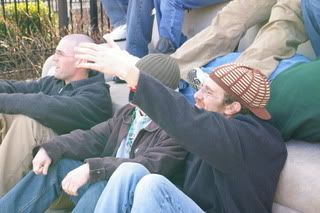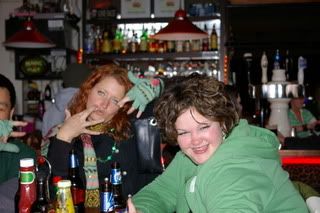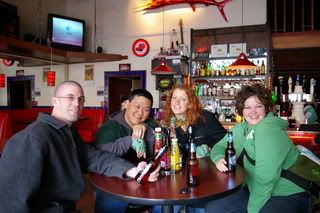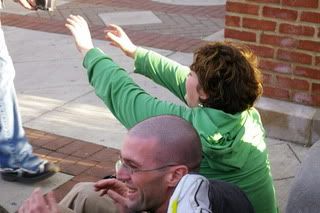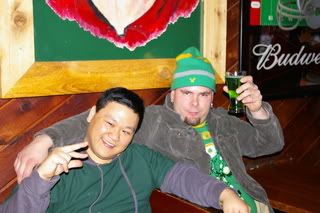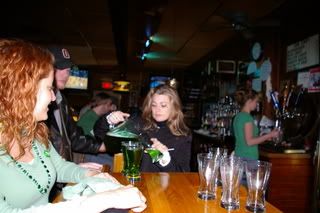 Things were smooth until the dude in the booth next to me in the last booth tried to debate ethanol and hydrogen as the answer oil. My views of "consume less' didn't work with him and he kept yelling "my car could go 200 miles on hydrogen" and when I asked him about how they get the Hydrogen he proceeded to say something along the line of "well you know water is oxygen with 6 electrons & hydrogens double bonded to it, and they just kinda pop off." They he brought up the
welding with Water
issue.
First Law of Thermodynamics
buddy. Water doesn't automatically cut things, and those Hydrogens can be removed by many methods (electrolysis, sound waves, etc) and in electrolysis, the amount of energy needed to be inputed to remove the Hs (which are NOT double bonded- they are covalently bonded and oxygen has 8 outer electrons, not 6) is the Gibbs free energy of the rxn plus the losses to the environment. It's not one-for-one chauch. And the cheapest electrolysis takes energy from fossil fuels- which has shown a low energy conversion, and now GE is pitching their electrolyzers with a super plastic that's resistant to the potassium hydroxide electrolyte with a nickel spray coating- plastic from oil and spraying heavy metals- doesn't seem like there's no polluion or energy loss here... Then this dude was trying to say that the nuclear conversion is best. Whatever. Nuclear conversions have a super low effeciency, and I won't go to the topic of Power Plants- as the
first one
in the US was decommisioned a year after my birth in my home county- my uncle that worked there died youngish of
lymphoma
. Plus
these 2
still operate. There are centers to get
KI pills
and evacuation routes through the county seat.