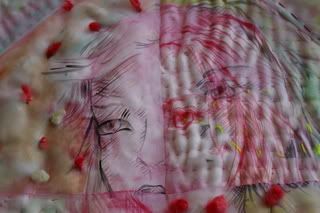 (note- new camera= image heavy posts until the novelty wears off)
So wine at "girlsnite" didn't make me totally lethargic like wine normally does, so I spent the wee hours of Fri night/Sat morning combing
the internet for a new
frame
and
wheels
Amazing breakfast via JG then off to the
ROYGBIV
gallery
down the block to see some art, hear the creative ladies speak about their stuff.
And let me tell you, it was awesome.
First up was
Melissa Vogley Woods
doing fiber arts/quilts. It was similar to what I've been working on, but eight million times more interesting to look at.(above pic) She briefly talked about the history of quilts, and their social/economic/etc places in history. She talked about her inspiration and reasoning behind which block patterns she used and how she even incorporates them into telling stories through her paintings (pic 2). What I found it most facinating was her use of a section of a quilt cutting that she drew on (pic 3). I like the idea of taking a piece of something like that with a historic context and bringing it to be your own. (will comment more elaborately on this at a later post)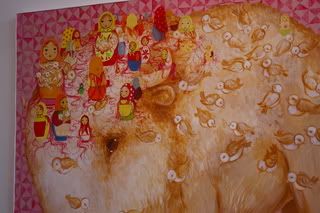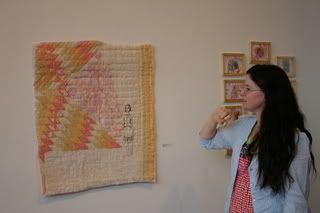 On the other half of the gallery were works by
Lauren Scanlon
. Walking in there, I had a feeling that she had moved around in the anarcho, diy, etc culture for a while. Her work wasn't political, and she didn't carry a presense, but then she said "I did anarcho puppet theater" and bam! I was right!
Her works were drawings and prints on various papers textures/woods/ceramic that were taped/glued/nailed/stitched together.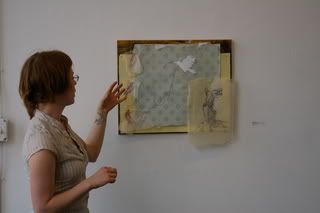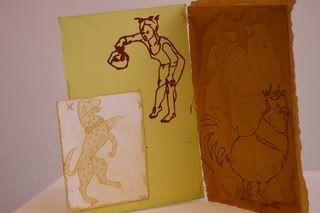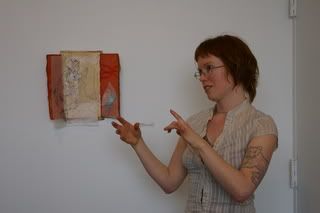 Her works reminded me of the prints of
Mary Mac
,
Etta
,
Nathan
and various others out of the 1877 community space in the early 00's, some of which I traded for still graces my walls today.
(and speaking of "anarcho", this boy was at the gallery:(he must have been 10- hehe) < src="http://img.photobucket.com/albums/v301/takewrning/IMGP0108.jpg">
So it was pretty nice to do that, and I would have like to stick around and wandering in the Short North a tad more, but JG and I headed to Athens to see my friend Matt and
The Modey Lemon
but then they were actually playing with 10 other indie rock bands, so we ditched that for Casa, Jackie O's, and darts at Matt's.
Sunday led to a 5 hr bike adventure to the office,
South Indian Buffet
(soooo awesome),
Outdoor Source
for webbing and a knife, Liberty books for
mags
, then procrastinating work/messing with new camera in JG's backyard.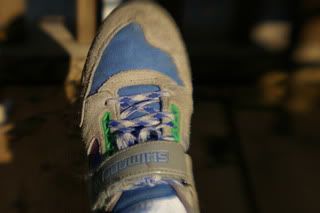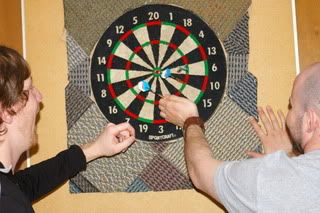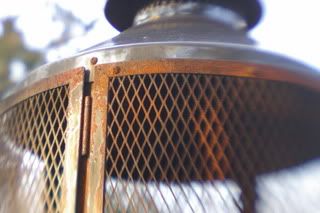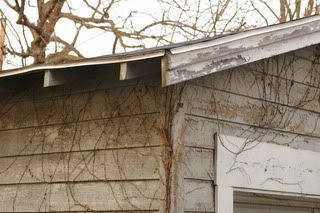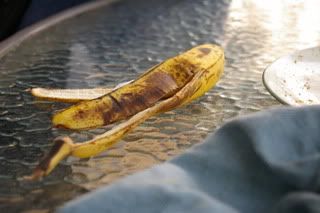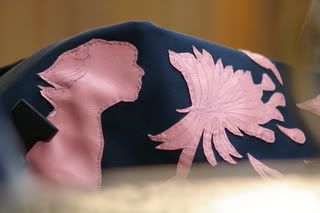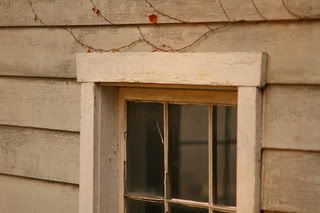 (we may not have said more than 2 words to each other, but he still made for a cute subject)