I received a package today from my mumsie with Easter treasures. The chocolate covered pretzels from
Anderson's Candies
were VERY tempting. Anderson's is a small candy store in Baden near my parent's house. Growing up it was a big deal to stop there- usually on the way home from piano lessons since we were in the area, and always getting a box of nonpareils for my grandma. Also through out middle and highschool, the
choc covered oreos
, peanut butter covered chocolate disk or 2 choc covered pretzels wrapped in clear plastic with the Anderson's logo in green were toted around in handled cardboard boxes by band and sports kids fundraising and sold for $1 each. Sheesh, they were SOOOOO good. I don't ever remember having to sell them- my mom probably just assumed I'd eat as much as she needed to donate- but I remember buying a hefty amount. Wow, I can almost taste that oreo melting in my mouth now....
Alas, the Abany stomach bug has me eating tiny flower pastas (the co-op sadly didn't have alphabets) with butter
(actually earth balance and nutritional yeast)
just like my grandma used to make me and ginger ale. So the Cadbury eggs, dove chocolates and candy strapped to a paddle ball (AMAZING!!) will have to wait. Luckily I wasn't tempted to eat the socks, golf newsletter,
bike shirt
or
bike necklace!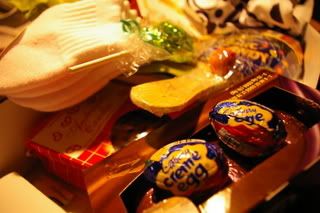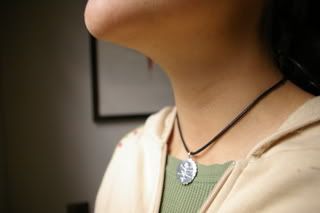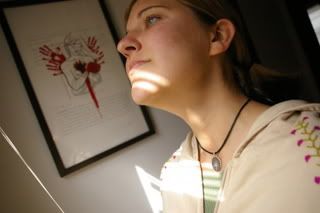 Besides cleaning my car (a biannual event) and packing for Sout Bend, I got to watch
Addams Family Values
,
Ghostbusters
, some awful Ghostbusters videos on YouTube, start my
ashtanga yoga
book, whip up some
asian curry peanut butter
(well, mine was indian curry and pickled carrots almond butter) and sew my pants. What a nice, lazy Sunday.