Albany was rough, and South Bend started out bumpy but it has been great since.
Whoo-hoo Remediation!

Semi-sunny, chilly, windy weather is perfect. There was a slight mishap involving my bike locked to a fence and the license plate on the rental car
But my metal-pounding skills made short work of that repair job (but more attention will have to be given to the paint on the Surly and the pink bar tape) and the weather was agreeable today so I got in a few miles. Found Mario on the way: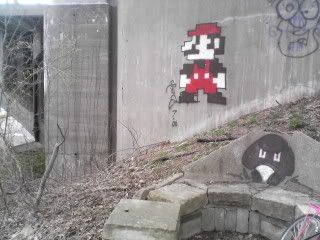 I found the
East Bank trail
in downtown South Bend, and it was really well made, maintained and beautiful. I'm sad to say that quarterly sampling has gone to semi-annual, so I won't be out here in July. If I was though the
East Bank Emporium
would be on the top of the eatery list. Right on the trail on the water. Perfect. During the day I was also able to swing by the
South Bend Chocolate Company
to pick up some gifts, phoned the brother, had great Indian Food and a beer with Anne Marie.
I had also found the american dream earlier in the week at Target:
Albany flashback: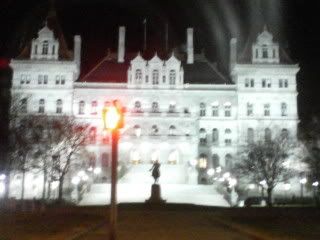 Art Show Flashback:
I had forgotten about this piece. Although I thought that it was a tad elementary, I really like when canvases are cut and sewn.