So I'm pretty craptacular about checking my mail (an sending it out while we're on topic) so I always come home to a stuffed mail box and packages on top. Like Xmas every few weeks. So today I received these items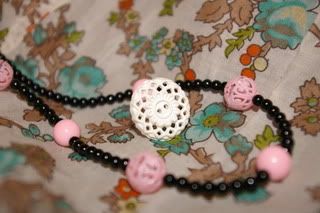 from
twiddledee
. Even wore the necklace, which added a nice bit of color to my black sweater on black t-shirt on black tank on grey pant ensemble con black shoes for the snowy work day.
But the real treasure was to be had in the large box. Although not full of chocolate easter bunnies from my mom as expected, it was an equally delicious treat from
The Sharing Machine
! I got 2 sweet ass shirts (one from
Natalie Dee
and one from
Toothpaste for Dinner
) and they threw in the amazing messenger bag (below) that I inquired about. Hell yeah! I will be able to rock out after my
technical
interview today!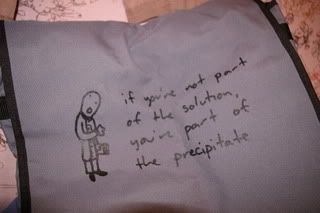 Not only that, but they threw in a
Dog Traders
CD and record. Now, although I do not have a record player in Cbus, I was still extactic to no end. Why you may ask? Well, last night I was talking about how I was sad that I have to work this Easter weekend in Albany, as
Maria
is actually gonna be home in Pgh. She and I used to sit in the office of her parent's house, well concealing cash to send to the like of
Tumyeto
and other labels from the back of
Pool Dust
. The covetted records were
Assorted Jelly Beans
.
The Vandals
and Dodgeball.
Dodgeball was by far our favorite, although I think that the full length album on cassette was superior. Then I would go rockin' out in my light pink Vans (which I would kill for now) my
Poot
shirt and repaint the grip tape on my board and she would smoke cigarettes out of her bedroom window. Sweeeet.