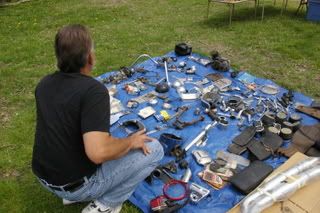 My dad came to visit me and on Friday we went to the Vintage Scooter and Bike Show in Plain City. Now, the guys owning
Cushmans
were gathered for a ride, but there weren't too many
Whizzers
, but got to see the guy with about 6 Marman's, one that he bought in the 40's for $129 and rode on Thursday. There were some neat treasures, including 2 totally rusted out bike from the late teens-early 20's, green saddle bags from the 50's, Lake Erie Walleye sandwiches and the most amazing tiny cars.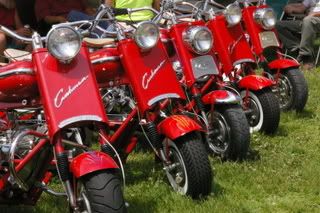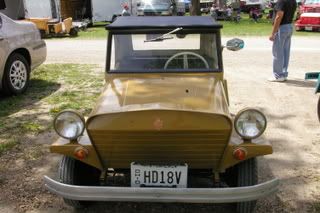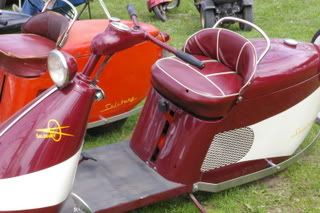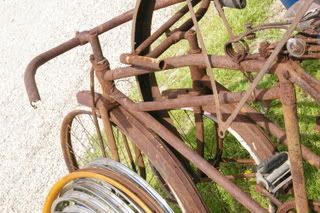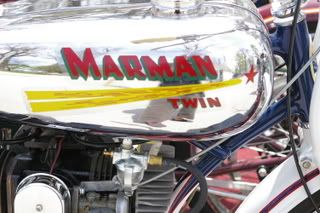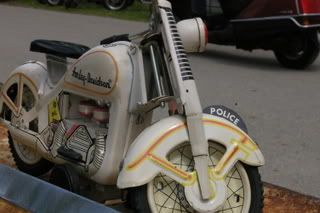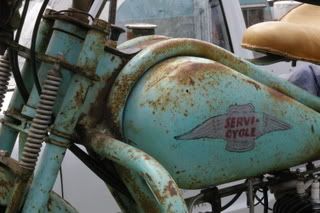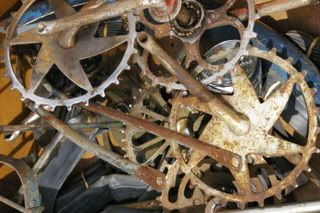 We worked on my bike, rode the Whizzer through Clintonville, had dinner at Rojo- which was very disappointing, had everyone back to our place. Saturday, dad fixed the back fence, trimmed the tree, fixed/cleaned the lawnmover, mowed the yard twice, took apart the garbage disposal, tried to hang shelves, fixed the window in my apt, carried about 20 loads of trash up and down the 3 flights of steps to my apt, bought tomato plants at Lowes, watched Jonestown, inspected the balances in the windows, played with the cats. I haven't had a Saturday like that in a long time. It was great though. After he left, JG and I had dinner at
Whole World
, checked out the great new store
Sparrowfish
up the street, worked on my bike, headed to
Studio 35
to see Hot Fuzz, which- after 3 Oberon's- and 30 min into the movie- fell into the deepest sleep in the longest time. We biked home and watched a documentary, but I think that I was still asleep the whole time.