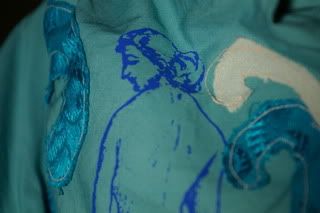 Special thanks to Amy, Chris and Ruth for coming over, enduring me totally stressed out, forced to use strong glues, bang a hammer, fire the glue gun and run the sewing machine to help me out for Comfest. It made a huge difference in my stock, presentation and overall sanity. Thank you so much
You can get Chris and Amy's crafts at
Wholly Craft
but also, check out Chris's website
Bootleg
and he also plays around town in the
Andy Shaw Band
. Amy can be found Tuesdays & Fridays 10:30-2 in July & August at the Lynn & Pearl Alley Markets, off of Gay St., Columbus, outside of Columbus, you can spy on her
blog
but mainly you should buy her
stuff on Etsy
. She and I will also be showing works at the Junction View Studios in Grandview at the end of July in the
ArtFits
show. Well,
Ruth
isn't a crafter, but she's a sweet lady that used to endure Ashland with me so if you're ever ever at Larry's or ORielly's or Patrick J's on a Thursday, see her and are thinking to yourself "Now, who should I buy a beer?" Pick her, she'll have good convo, but tell her why, otherwise you may scare her...
Also, in a move from various crafting, I'm going to focus on more refined jewelry, fiber arts and bike parts, so I'm slowly listing the rest on
my etsy site
, priced to move! Most of this stuff was custom made for the now-closed shops of Kharisma and Monica's Divas in the South Side of Pittsburgh, and I really can't manage it any longer. I'll probably be posting some crafting supplies too, so check frequently!
Subpar pic of one of the new purses:
Buy the old stuff: